As of Fall 2018, Indiana University is partnering with Indiana 2-year institutions to better serve students by offering a Reverse Transfer. The process of reverse transfer allows eligible students to receive their Associate's degree at Ivy Tech or Vincennes University while pursuing a Bachelor's degree at IU. This opportunity will be offered to IU students who have transferred from either Ivy Tech or Vincennes. Reverse Transfer works by transferring back credits earned from IU to Ivy Tech or Vincennes.
The IU credit that is transferred back then becomes Ivy Tech or Vincennes credit that is directed towards an Associate's degree. The IU credit that becomes transferred to these institutions still is applicable to an IU Bachelor's degree, so, students do not need to worry about losing any IU credit in the process. 
 In order for a student to be eligible, the student must have between 75 to 90 hours of combined transfer credit and credit earned at IU completed. 15 or more of these credits must be earned from Ivy Tech or Vincennes after graduating high school and before enrolling at IU. As a courtesy, IU will contact and offer eligible students the opportunity opt-in or decline participation in Reverse Transfer. Ivy Tech or Vincennes will make the final decision if a student qualifies for an Associate's degree through Reverse Transfer.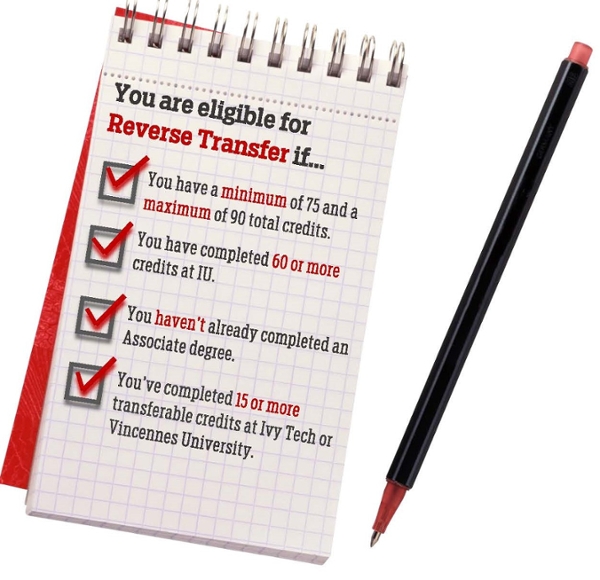 To learn more about Reverse Transfer practices, view the webpage below.
If you are a student who meets the qualifications for reverse transfer and is interested in applying, follow the steps below based on which institution you transferred from.